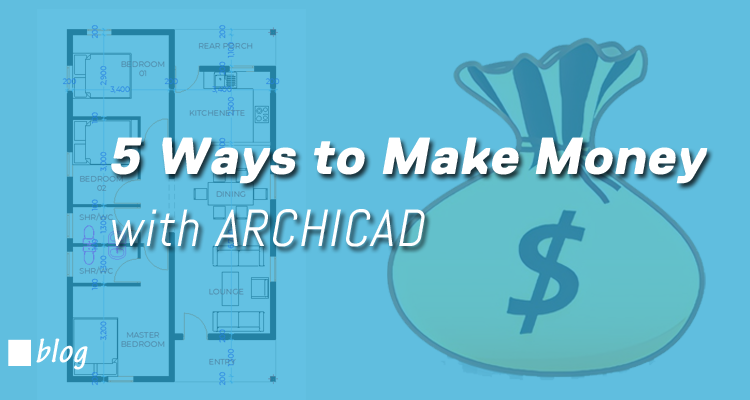 5 Ways to Make Money with ARCHICAD
ARCHICAD is a building information modelling software (integrating architectural design, MEP engineering and structural engineering) developed by Graphisoft. It allows you to develop a virtual building model, that has intelligent construction information linked to it. With different model views, you automatically generate 2D floor plans, elevations, sections, 3D floor plan documents and interactive schedules for quantity take-off and reporting.
In this article, we will explore the benefits of learning ARCHICAD. By the end of the article, we will have discussed various ways of making legit money with ARCHICAD. These include the following:
1.      Freelance Drafting Services
Architectural drafting services are on-demand globally. Your clients will range from DIY homeowners looking for house extension plans to submit to the municipal authorities for approval, to busy architectural firms looking for remote support for the office.
All you need to do is have a dedicated office or a work-from-home desk setup, complete with computers or laptops for running ArchiCAD, a steady internet to connect with you with the rest of the world, and the necessary software applications to support remote collaboration.
Online workplaces such as Guru, Upwork, Freelancer, Fiverr, among others, can be a good place for you to list your services and bid for work. For example, with Guru and Upwork, buyers usually post work online. You as the seller will submit bids and upon consideration deliver the work and get paid.
Fiverr, in addition to bids, allows you to create gigs. These are like landing pages that comprehensively describe the type of services that you offer, associated costs and terms of reference. Buyers will then make decisions on whether to engage you based on your gigs and any further negotiations that you will initiate in the chat section.
You can get started today on Fiverr by signing up for free and creating your first architectural drafting gig.
2.      Online Teaching
Another great way of commercializing your ArchiCAD skills is by teaching others. Archicad users of all mastery levels (beginner, intermediate and advanced) are always looking for resources to help them make the best use of the software and push the limits to what they can actually perform.
You can invest your time to help others learn either by teaching them one-on-one (physical meetups) or online. Online teaching can range from sharing short tutorials and tips on platforms such as YouTube, to live demonstrations on Zoom video calls and full courses on Udemy and Skillshare.
Start by writing down a detailed plan on how to approach it. I will suggest you start with YouTube because it does not have strict audio and video quality guidelines that can make it hard for you when you are a beginner. People viewing your tutorials will always give you feedback, you will know the areas you need to improve based on that feedback.
Once you have built a strong community of YouTube, you will have gone through a transformative learning journey. It will have helped you master your delivery methods, course creation skills, audio and video editing techniques. You will be ready to explore other online teaching markets such as Udemy or Skillshare.
You can get one week of access to Skillshare premium classes when you sign up using my link.
3.      Textures + Surfaces for Architectural Visualization
Architectural visualisation is defined as the practice of representing a project in a way that it can be easily digested by the client. It involves creating a highly detailed and accurate three-dimensional model of a structure with surfaces and textures of the building elements represented as like real-life elements.
With Archicad, these textures are basically images that have been made into a collection called an Archicad library. They are used to create representations of new building materials to be applied when creating renders, walk-through videos and animations.
You can benefit from this field by creating high-quality textures and selling them online. These textures should be compatible with Archicad and the various rendering software that go together with Archicad, such as Enscape, Twinmotion and Lumion.
4.      BIM Objects Creation
Objects are three-dimensional elements that Archicad uses to represent construction information both or a 2D plan and on a 3D virtual building model. They are a great way to visualize construction data geometrically.
With BIM (Building Information Modelling), besides the geometrical data, these objects are packed with intelligent construction information that will be very helpful in the actual construction process of the project.
For example, you will find information such as the manufacturer details, installation guides, fire resistance ratings, tensile strength, cost per unit of the element, weight, material durability etc. With ArchiCAD's morph tool or the latest Param-O invention, you can create custom objects.
The idea would be to link up with various manufacturers of construction products and collaborate with them. You create BIM objects for their products and list them on online selling portals or sell them on your own website. This can be an avenue for marketing the products of the said manufacturer and earn revenue from that. You will also make money from the sale of those objects on your website.
See more information on Archicad BIM objects from the official ArchiCAD documentation site here.
5.      ARCHICAD Templates
A template is basically a file that serves as a starting point for a new document. It usually has pre-created formatting styles that get imported to your new project when you use it. Instead of creating a project from start, an Archicad template helps you to start with ready settings and customizations for your new project.
When you are creating a new project in Archicad, it gives you an option of choosing a default template to associate it with. The choice of the template depends on the nature of the project that you want to model. These templates serve to increase your productivity and save time while modelling and documenting your project.
You can create and sell templates to help you raise some revenue to support your freelancer business.
For example, due to the fact that Archicad initially had a focus on architectural design and functionalities such as estimating and quantity take-off were available to the most advanced users and BIM managers, quantity estimation templates have become very popular on the web.
Instead of developing cost classification and databases from scratch, an estimation/quantity take-off template will have that information already set for you. All you need to do is load the template, model your project and follow the necessary procedures to develop your estimates. You can think in those lines too.
Conclusion
We have looked at the 5 ways you can make money with Archicad. This list is not conclusive, there are many ways out there that some of you are creatively using Archicad to generate revenue for their businesses. You can try one of these recommendations then give us feedback in the comments section.
I'm a Quantity Surveyor, Educator and the founder of QuantBuild Academy, the fastest-growing technology-focused YouTube channel online. I am passionate about construction information technology and the digitization of the construction industry.
Tags In
Search